Biography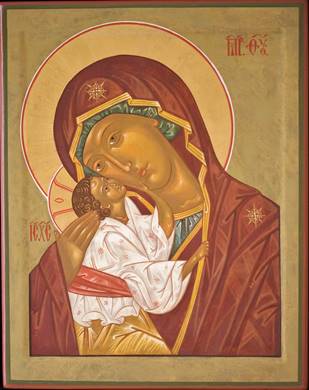 Annie was formally educated at Cambridge School  of Art and then Central St. Martin's, London; where she gained her degree in fashion and textile design. After many years working as a fashion designer she decided to change profession and retrained as a garden designer. Following a long and successful career, winning awards at both Chelsea and Hampton Court flower shows, she retired to concentrate on painting icons.
She was received into the Orthodox Church 20 years ago and soon thereafter started training as an iconographer under Mariana Fortunata (a pupil of Ouspensky). Later she was introduced to the Byzantine/Russian float painting technique as taught by The Prosopon School and tutored by Nikita Andrejev - the son of its founder. This traditional method of painting uses natural earth ochres, minerals and precious stones - such as Azurite, Lapis lazuli, and Malachite - mixed with egg tempera on specially prepared gessoed wooden boards.
Ten years ago she set up The Fellowship of Saint Luke, a non-profit making organisation, to help promote the painting and understanding of icons in the UK. To this affect she teaches week-long courses twice yearly; along with full day workshops.
Annie lectures to various groups around the UK including The Arts Fund and U3A.
She has had many commissions for weddings, name days, Christenings and for home devotion as well as icons for The British Orthodox Church; St. Edwards Brotherhood, an Orthodox Monastery; The Sisterhood of The Cathedral of The Dormition, Chiswick, London; St. Stephen's Catholic Church, Eltham, London; and several Anglican and other Catholic Churches.

As well as painting the classic icons of the Greek and Russian Orthodox Churches Annie specializes in the Saints of these Isles in a style sympathetic to the insular tradition; praying that the Saints of the early Celtic / British Church will again be truly revered.