Classical Icons
A selection of classical icons in the Byzantine style of the Russian and Greek ecclesiastic traditions. These icons are painted by Annie Shaw in egg tempera in the beautiful and transcendent method of the float technique, and are available by commission.

Christ Pantocrator

The classical Byzantine Icon of Christ holding the Bible and with his hand blessing those who come to Him.

The blue outer robe (himation) signifies Christ's Heavenly aspect whilst the red inner garment (chiton) is His earthly one, and symbolises the blood he gave for us. The band (clavus) shows His royal status. On the Halo the letters within the cross on which Christ died, reads 'He That Is'
Gold Assist Details
Size 25 x 32cm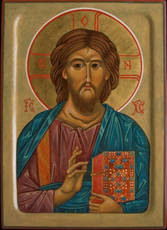 Theotokos of Tenderness

Classical Russian Icon of Mary Mother of God holding the Christ Child. Her hand gesture directs us to follow Christ's path, while she looks out to us knowingly of Christ's destiny. Christ reassuringly embraces her. Her high earthly status is shown in the purplish red colour of her robe. The blue wimple and dress show her Heavenly aspect. The stars symbolising her virginity before, during and after her conception.
Gold Assist Details
Size: 22 x 31cm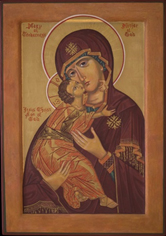 Archangel Gabriel

Icon based on Rublev's Arch. Gabriel. The Archangel holds the sphere of the universe through which he traverses, between Heaven and Earth, as the messenger of God. The spear he holds has the lily flower symbolic of the annunciation. Gabriel is the bringer of news.
Size: 29 x 34cm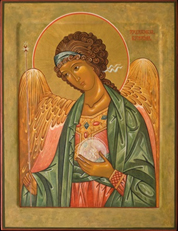 Apostle Andrew

Saint Andrew was the first Apostle to be chosen by Christ. Once he spread his nets to catch fish now he cast them to spread the word of God.

This Icon is with the British Orthodox Church when services are held at St. Andrews Church, Clewer, Windsor.
Size: 28 x 35cm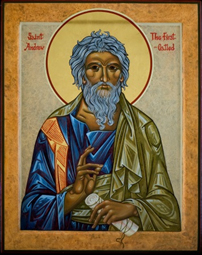 Saint Nicholas

This classic icon is greatly favoured by the Russians.
Size 25 x 33cm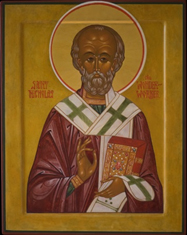 Saint George and the Dragon

A C15, Russian, Novgorod, icon of Saint George overpowering the dragon, who represents the devil. He wears armour as a soldier of Christ, whilst the red cape represents his death as a martyr. He sits astride the white horse of purity of mind.  The mountains show our path to Heaven getting ever steeper towards the summit. Their 'ears' listening to us as we climb. Christ blesses the Saint from His Heavenly Realm.

Patron Saint of England, and many other countries and cities.
Size 29 x 38cm